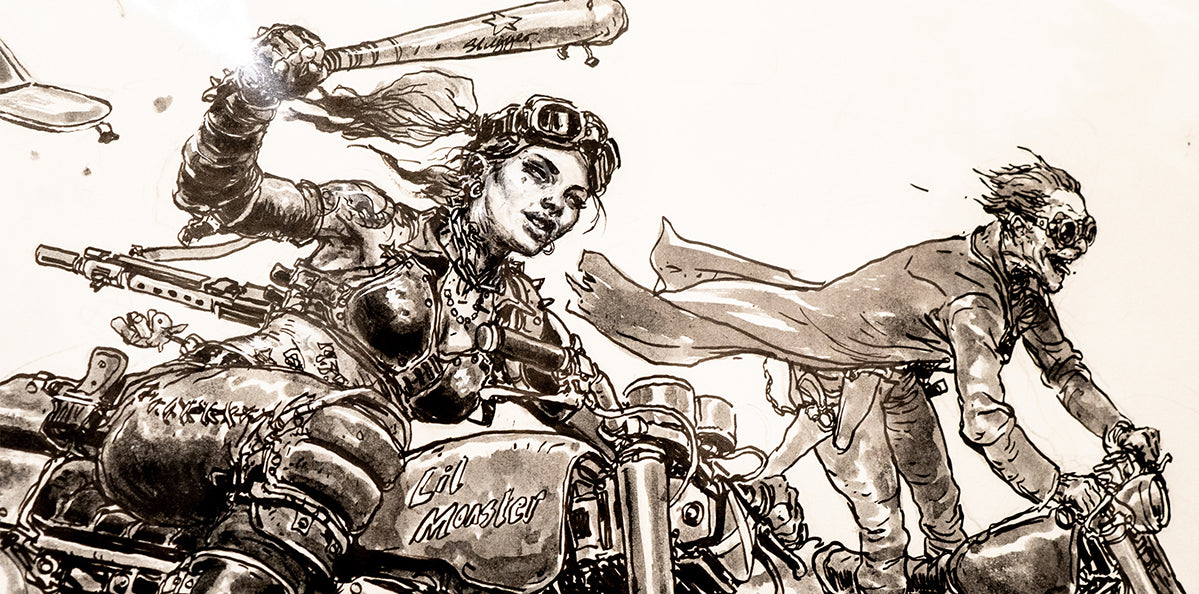 SUPERANI X GR2  |  By Michelle P Vu  |  June 25, 2019
Members from SuperAni were invited to do a live drawing at the Giant Robot 2 gallery store located in Los Angeles, California. SuperAni, a company founded by Kim Jung Gi and Kim Hyunjin in Seoul, Korea, publishes and distributes illustration book from artists. This special event took place on Sunday, July 14th and featured three artists from the SuperAni group: Karl Kopinski, Peter Han, and Miss Jisu.
We arrived at Giant Robot 2 around 2:30pm, 30 minutes before the event, to browse each artist's original works posted on the wall. Guests were able to reserve and buy artwork off the wall along with books from the SuperAni publishing company. The event started off with book signings from all three artists. Both owners of SuperAni, Kim Hyunjin and Kim Jung Gi, made an appearance and Kim Jung Gi also participated in the book signing. Kim Jung Gi holds the record for "longest drawing by an individual" in the Guinness World Records book and is highly respected in the art community for his ability to create intricate scenes from memory. Kim Hyunjin taught art for 28 years and has been publishing Kim Jung Gi's work since 2007. 
The live drawing by Karl Kopinski, Peter Han, and Miss Jisu began at 5:00pm. Karl Kopinski is a self taught UK artist who specializes in traditional and digital media. Additionally, he has worked with notable clients such as Peter Jackson, Hasbro, and Sir Paul Smith to name a few. His skilled use of light and shadow stands out in many of his drawings. Peter Han is a concept artist as well as an instructor at the Computer Graphics Master Academy. He has worked for entertainment companies such as Sony, Nexus, and Technicolor. The last artist, Miss Jisu, is known for her detailed work of the female anatomy. While she does draw males, she has expressed that she enjoys drawing females. 
The live drawing lasted approximately two hours and had an amazing turn out. Many audience members arrived with the intention to learn or be inspired. Katsuya Terada and James Jean, two notable artists from the industry, were also spotted on the event floor to show their support.  All three artists were open to questions and answers during the duration of the live drawing, making it a very engaging and memorable experience. The Giant Robot 2 gallery store occasionally hosts these special events throughout the year. To find out more about upcoming events, you may visit their website at https://www.giantrobot.com/.
Video/Photo taken by Danny (@dannytr4n)